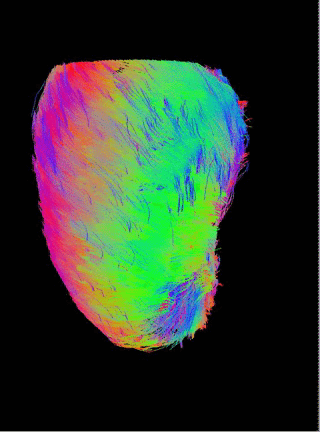 In vivo DT-CMR Tractography
Using second order motion compensated (M2) encoding, we are to perform robust in vivo DT-CMR allowing for tractography.
Myocardial Regeneration Therapy Evaluation with DT-CMR
Collaborator Dr. Eduardo Marban developed exosomes derived from cardiosphere derived cells showing decrease in LGE scar. We have further demonstrated that the reduction in LGE scar also led to realignment of the helical myocardial fibers.
Histological Validation of DT-CMR with CLARITY and 3D Optical Imaging
Working with collaborators Dr. Sangeun Lee and Dr. Hyuk-jae Chang from Yonsei University, we have validated DT-CMR with 3D histology using a clearing tissue preparation CLARITY and light-sheet optical imaging.
Coronary Atherosclerosis Characterization (CATCH)
Collaborators Dr. Yibin Xie and Dr. Debiao Li demonstrated unique contrast to coronary atherosclerosis plaques.
Detecting Lipid Rich Necrotic Core with DW-MRI
In collaboration with Dr. Yibin Xie and Dr. Debiao Li, we demonstrated DW-MRI can detect LRNC without the use of traditional Gd contrast.
Modulation of DW-MRI in Human Prostate Tumor in Mice
With collaborator Dr. Ping Li and Dr. Hyung Kim, we demonstrated that suppression of CENPF decreases the visibility of prostate tumors by modulating DW-MRI signal.